Don't hold back on sauce
The sandwich team, Sandwich Sandwich, Bristol
"Making the perfect sandwich is all about fillings and layering. Sauce first is always key; whether you are a pickle, mayo or chutney lover, starting with the sauce holds your sandwich together perfectly. You can fit almost anything into a sandwich as long as you layer and don't cram."
Get the look: Blinged up mayo is a great sauce for lots of sandwich fillings, from ham or chicken to eggs or roasted vegetables. Our scampi po' boy, pictured above, uses frozen scampi to take the fish finger sandwich to a new level. The sauce is crunchy, mustardy celeriac remoulade, but the recipe includes tips for other ways to jazz up storecupboard mayo. And keep that hot sauce handy.
Keep it crisp and filled up to the crusts
Lorraine Duthie, owner, Lettuce Eat Healthy, Aberdeenshire
"Salt tomato and cucumber slices and sit them on a piece of kitchen paper for about 5 minutes. This allows the excess moisture to seep out, intensifying the flavour, and should prevent the slices from sliding out of your sandwich. Adding lettuce? Always wash and dry it with a paper towel, as this prevents it from making your bread or roll soggy.
"Also, if you're using grated cheese, put the cheese on after the condiment, as it sticks the cheese to the bread and saves it from dropping out of your sandwich when you eat it.
"Finally, since most meat slices tend to be round, and most bread is square, cut each circle of meat into quarters and place the straight side of the meat facing outwards when putting it onto the bread. This way you end up with a neat finish and no bare corners without filling on them."
Get the look: To add crispness to your sandwich, get ahead by making or buying pickle such as pickled cucumber or kimchi. A tidy square of focaccia demands neat and square edges. The muffaletta sandwich crams in a selection of cured meats – salami, coppa and mortadella are standard – plus provolone cheese and an olive-caper salsa. Wrap the sandwich and store it for an hour to allow the bread to soak up the briney juices. Perfect for taking to work.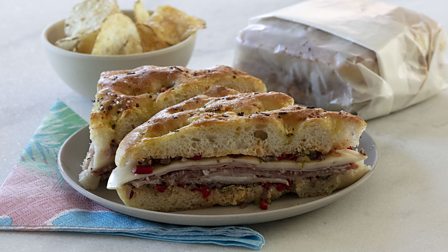 Choose your bread wisely
Stephen Hallam, managing director, Dickinson & Morris, Melton Mowbray
"For sandwiches, we focus on the personal touch, and use freshly baked bread rolls (rather than sliced bread) made up and filled in front of the customer. Our top tip is to remember the bread is half of the sandwich, so always use freshly baked high-quality bread. There are lots of exciting and really flavoursome types of bread available."
Get the look: Make your own easy white bread or basic white rolls. Frozen, part-baked baguettes are a great shortcut to freshly baked bread. Use them to make a cheat French dip sandwich. This hot roast beef sandwich is piled with sweet, slow-cooked onions and partnered with a rich gravy for dipping. Yes, at last you can combine gravy and sandwiches!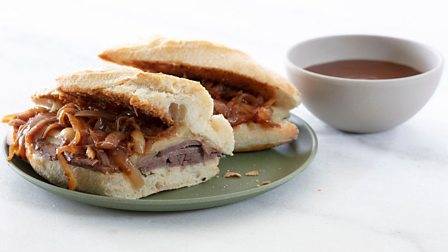 Step outside your filling comfort-zone
Sally White, owner, Salcooks, Birmingham
"For me, a sandwich doesn't have to contain meat or cheese. It just needs something saucy (hummus, chutney, pesto, tahini, garlic butter, ricotta, fruit 'cheese', tofu 'mayo', sweet chilli sauce – never actual mayo, unless it's a homemade herby garlicky one, maybe), and something crunchy (crisp lettuce, toasted nuts or seeds, pickles, crisps)."
Get the look: The sabich is a fantastic vegetarian sandwich with plenty of sauce and texture. Smoky aubergines, creamy hard-boiled eggs, nutty tahini, crunchy pickled cabbage and cool cucumber. All other egg sandwiches pale in comparison.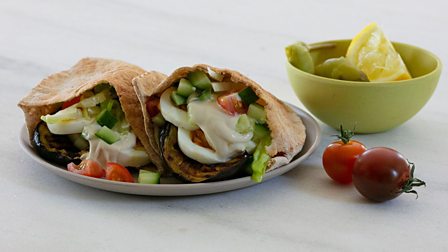 Be open to experimentation
Matt Saunders, manager, Wally's Deli, Cardiff
"Making a sandwich is all about trial and error, seeing which flavours work together and which chutneys, freshly cooked breads and fresh vegetables complement each other perfectly. Then finally comes putting it together – we build the sandwiches up and make them like a work of art, they must look as amazing as they taste."
Get the look: Frozen prawns are a great standby for making this beautiful open posh prawn sandwich. Liberally strew with rocket for a beautiful, messy, just-got-out-of-bed sandwich.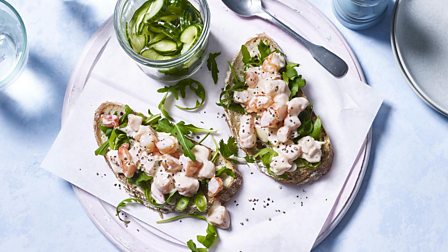 Take your favourite sandwich a bit further
Dominique Ansel, owner and executive chef, Dominique Ansel Bakery
"There's no better sandwich than a croque monsieur. It's a classic French ham and cheese sandwich and something I made when growing up, with sliced Black Forest ham, plenty of Gruyère cheese, a simple béchamel and sourdough bread. The trick with my recipe is that we soak the bread in a savoury custard first, so the sandwich stays nice and moist as it toasts up in the oven, while the cheese gets bubbly and melts and the edges crisp up. It's something my first chef taught me how to do, and I've been making croque monsieurs this way for more than 20 years."
Get the look: The croque monsieur is not just a sandwich, it's a highlight of the day. If you're not ready for soaking the bread in custard, try changing up the cheeses or adding a fried egg for a croque madame.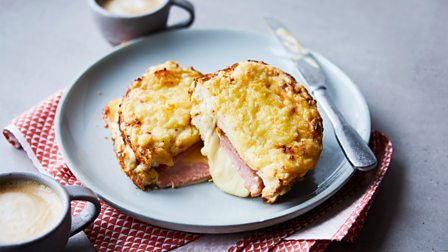 Plan ahead for epic sandwiches
Bin Li, owner, Murger Han, London
"Our signature 'murger', or roujiamo, originates from the Shaanxi Province about 2,500 years ago and is widely acknowledged to be the first historical evidence of a sandwich. Consider the components carefully, both separately and how they work together. We use flatbread, which has a crispy exterior stable enough to hold and support a warm filling with some moisture. We could never use a light and airy bread as the sandwich would fall apart. We use pork belly for the filling, as it can be stewed for 12 hours in a soup containing over 20 spices and seasonings; thin layers of tasty loin would not absorb the flavour. Think about the balance of texture, moisture, spice, taste and hand-feel; if you get all these right, no matter what your elements, you will achieve the perfect sandwich."
Get the look: Using leftovers in a sandwich has been done for as long as the 'murgur' has been around. You might try cooking Cuban slow-roast pork to make the Cuban sandwich. Fill a soft roll with mild mustard, ham, cheese, pickles and warm shreds of roast pork. Brush the outside of the sandwich with melted butter and fry it in a pan, pressed down with a weighted baking tray. Flip and fry the other side. You'll never forget it. This sandwich is so good, it has a starring role in the film, Chef.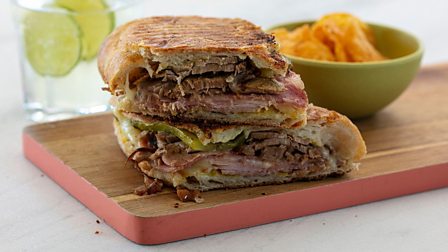 How to take a cheese toastie to the next level
Dan Place, director, Northern Soul Grilled Cheese, Manchester
"We use a tight sourdough mix for our bread, so we reduce the number of larger holes typically found in sourdough. This means we keep all that molten cheese inside the two slices as we grill. And the fat from the butter on the outside is producing that golden colour.
"Our shop's signature is our Soul grilled cheese with nine-hour barbecued pulled pork and mac and cheese in the sandwich. Yes, this is a thing. It's delicious and can be made at home, no problem. Obviously finish with a juicy dill pickle to cut through all that cheese.
"Finally, our top tip for making sandwiches at home? Have a natural wooden butter knife, so tearing bread when spreading butter becomes a thing of the past."